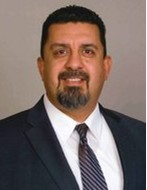 August 2023
Dear Parents, Guardians and Caretakers,

Welcome to the 2023-24 school year! I hope this message finds you and your family doing well.

As we help prepare all students for college and career, I am excited for the opportunity our teachers, administrators, and staff will have once again, to connect and engage with our students and their families. We will work collectively to make this school year the best experience possible for our students in the Santa Maria Joint Union High School District (SMJUHSD) - where greatness grows.

I appreciate your support and the trust you place in our schools to attend to the learning and well-being of our students. If you have any questions, I encourage you to contact your school's office. I look forward to a safe, positive and meaningful school year for all our students.


With gratitude,

Antonio Garcia
Superintendent
Agosto 2023
Estimados padres, tutores y cuidadores,

¡Bienvenido al año escolar 2023-24! Espero que este mensaje los encuentre a usted y a su familia bien.

Mientras ayudamos a preparar a todos los estudiantes para la universidad y la carrera, estoy emocionado por la oportunidad que nuestros maestros, administradores y personal tendrán una vez más para conectarse e interactuar con nuestros estudiantes y sus familias. Trabajaremos colectivamente para hacer de este año escolar la mejor experiencia posible para nuestros estudiantes en el Distrito Unido de Escuelas Preparatorias de Santa María (SMJUHSD), donde crece la grandeza.

Agradezco su apoyo y la confianza que depositan en nuestras escuelas para atender el aprendizaje y bienestar de nuestros estudiantes. Si tiene alguna pregunta, le recomiendo que se comunique con la oficina de su escuela. Espero un año escolar seguro, positivo y significativo para todos nuestros estudiantes.
Con gratitud,

Antonio Garcia
Superintendente
♦♦♦♦♦
Antonio Garcia has been serving as Superintendent for the Santa Maria Joint Union High School District since January of 2020. Prior to moving to Santa Maria, Mr. Garcia served in the Riverside Unified School District as Assistant Superintendent of Professional Growth Systems, Assistant Superintendent of Curriculum & Instruction, High School Principal, and Middle School Principal. He also worked for the Riverside County Office of Education as Principal in Residence, coaching high school principals across the county. Mr. Garcia began his career as a high school teacher for the Whittier Union High School District in the Los Angeles area, where he grew up. He holds a Bachelor's degree from Stanford University and a Master's degree from Brown University. He and his wife Maria, a Spanish teacher, have two daughters.
Antonio García ha estado sirviendo como Superintendente del Distrito Escolar de Preparatorias de Santa Maria desde enero de 2020. Antes de mudarse a Santa María, el Sr. García sirvió en el Distrito Escolar Unificado de Riverside como Superintendente Asistente de Sistemas de Crecimiento Profesional, Superintendente Asistente de Currículo e Instrucción, Director de Escuela Preparatoria y Director de Escuela Intermedia. También trabajó para la Oficina de Educación del Condado de Riverside como Director en Residencia, entrenando a directores de escuelas preparatorias en todo el condado. El Sr. García comenzó su carrera como maestro de preparatoria para el Districto Escolar de Preparatorias de Whittier en el área de Los Ángeles, donde creció. Tiene un bachillerato de la Universidad de Stanford y una maestría de la Universidad de Brown. Él y su esposa María, maestra de español, tienen dos hijas.
Department Contacts
Contact Name
Job Title
Phone Number