SMHS FBLA Students Attend Conference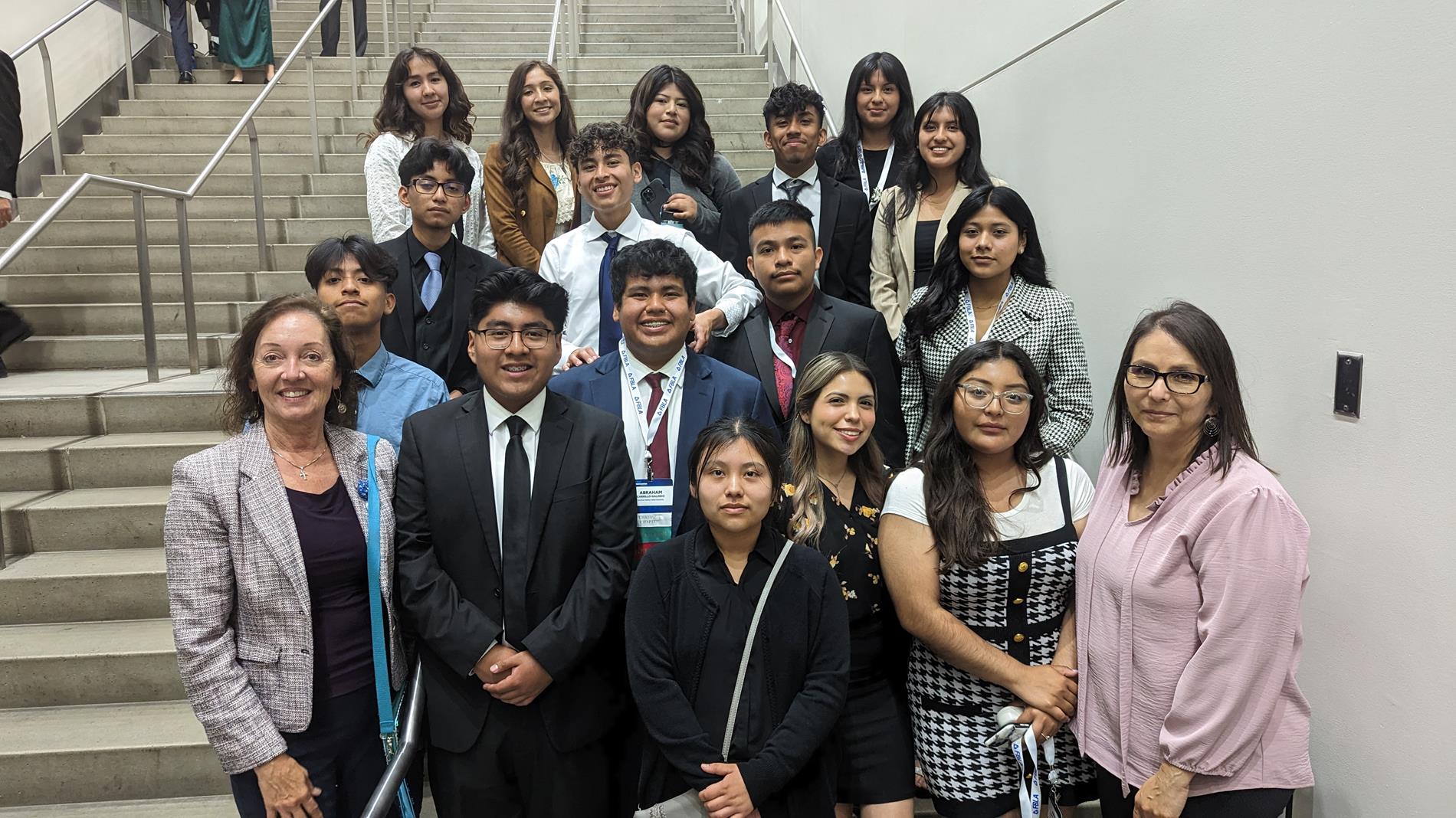 ---
Sixteen Santa Maria High School Future Business Leaders of America (FBLA) students joined 2,000 students for competitive events at the FBLA Gold Coast Section Conference from April 27th – 30th.
The Saints competed in various business & financial, entrepreneurship, and software systems development career paths during the conference that was held inside the Safe Credit Union Convention Center in Sacramento. In addition, the students had many opportunities over the course of the conference to attend leadership workshops, listen to an inspiring keynote speaker, Patty Hendrickson, Brand & Marketing Expert; network with other members and observe student performance competitive events. Lastly, the students enjoyed a short visit to the California State Capital.
The students were accompanied by Saint FBLA Advisers Alejandra Fulton and Cindy Quaid, and teacher Oscar Velasco.
"Attending the State Leadership Conference for Future Business Leaders of America was an incredible experience that allowed me to meet like-minded individuals and gain valuable insights through workshops. I am grateful for having been able to participate in competitive events for the past two years. FBLA is much more than a competition but it's about taking the first leap into something new, overcoming obstacles, being determined to succeed, and most of all it's the people you meet who support you along the way." - Dianna Jimenez, 12th grade.
"Being called to go up to the stage was very surprising to me. I'm looking forward to attending the nationals. I had a fun time meeting other members in FBLA and exploring Sacramento." - Andrea Martinez DeJesus, 12th grade.
Results of Santa Maria High School FBLA Chapter and Member who placed at the California State Leadership conference:
Santa Maria High School Chapter was recognized as a "Champion Chapter" for their accomplishments of modeling the ideals of Service, Education and Progress, and for their participation and contributions and completion of the March of Dimes Chapter Projects where they collected and donated $1020 to the March of Dimes.
Fifteen (15) students completed the Financial Literacy individual project; earning a digital badge and pin. The project shows demonstration of financial literacy.
Luis Bravo-Sanchez (11th grade), Insurance & Risk Management – 5th place

Dianna Jimenez (12th grade), Computer Applications – 9th place

Andrea Martinez De Jesus (12th grade), Word Processing – 8th place

Armando Cruz Santiago, Member of the Year, Santa Maria High School

Luis Bravo-Sanchez, Andrea Martinez De Jesus, and our SMHS Chapter President, Armando Cruz Santiago will now compete and represent Santa Maria High School and the state of California in June at the National Leadership Conference of the Future Business Leaders of America in Atlanta, Georgia.

SMJUHSD Media Contact: Public Information Officer Kenny Klein 805-709-1454 or kklein@smjuhsd.org