SMJUHSD Building and Construction Team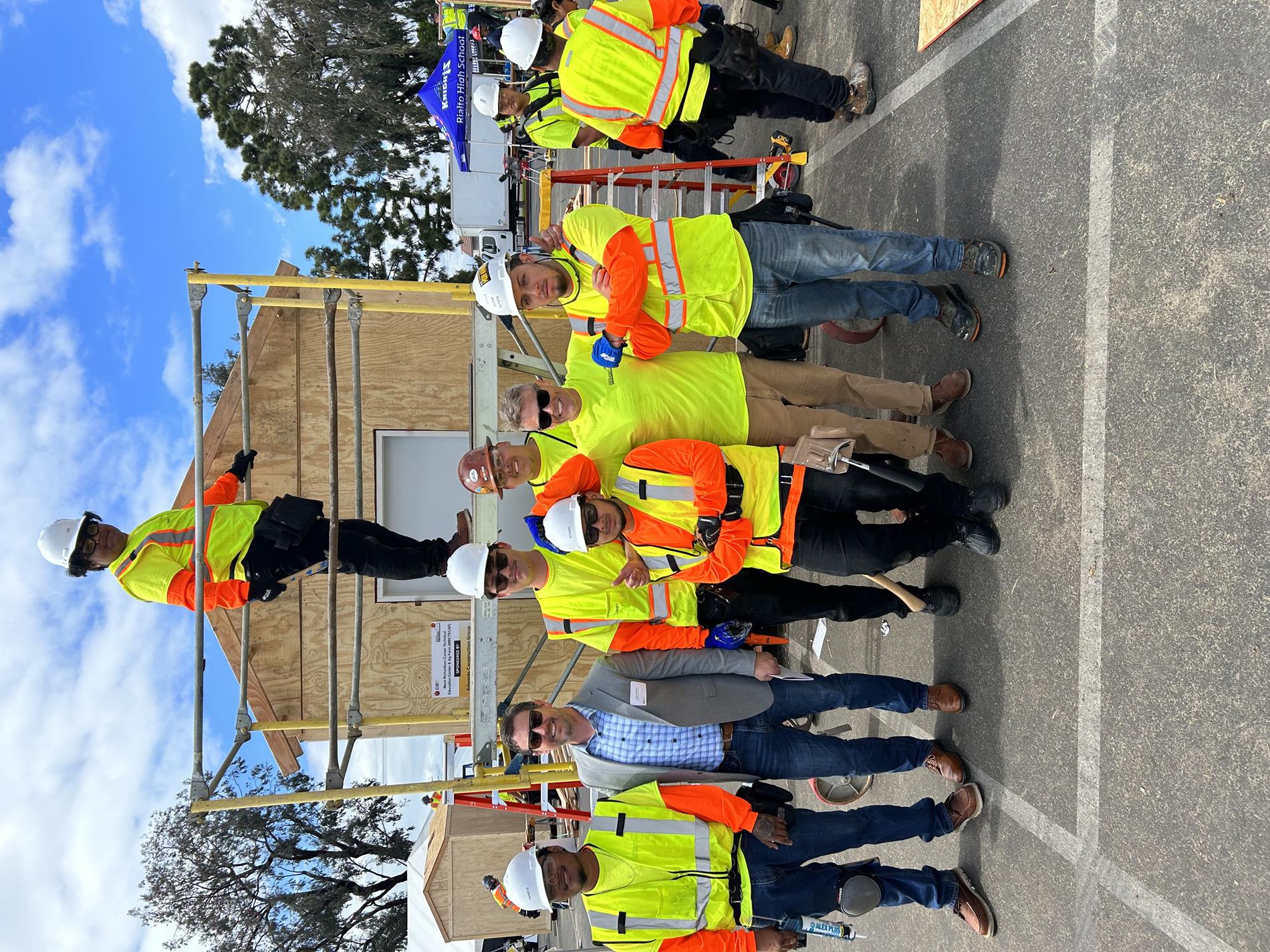 ---
Fifteen members of the Mark Richardson Career Technical Education Center & Ag Farm Building and Construction Team participated in the Southern California Construction Industry Education Foundation's 38th annual Design Build Competition for scholarships and recognition at Golden West College in Huntington Beach on March 22nd & 23rd.
The competition showcased the skills and talents of young designers and builders as they worked for 14+ hours in two days, with rain and wind, to build structures that will be donated to their communities. The competition included 28 teams comprised of high schools, trade schools, and colleges.
Righetti High School's Alex Angeles Denis and Santa Maria High School's Brandon Olea, both received a $1,500 scholarship. Santa Maria High School's Miguel Velasquez was named Construction Manager of the Year.
"I did not realize how hard it is to keep a crew on task to get the job done when working under the pressure of timelines, dealing with weather, and standing inspections. It was a much bigger and harder job than I thought it was going to be. It really made me want to be a construction manager in the future because it was a great feeling to design, plan and produce a project to a successful completion." - Miguel Velasquez.
"I couldn't be prouder of this year's team and especially Miguel Velasquez. With his leadership, our team was able to overcome a huge disadvantage as we did not have the opportunity to practice together as a team. In fact, there were many members on our team that had never met prior to the competition and Miguel did such a good job of leading that he stood out above all other project managers. I had many industry professionals as well as instructors from other schools complement me on his skills. He is a natural leader. We also took home 40% of the senior scholarships that were awarded which was absolutely incredible. I did not think that we would be able to eclipse last year's Rookie Team of the Year Award, but our students far exceeded my expectations. This year's Design Build Team has most definitely helped build the legacy of the Building and Construction Program as well as provide a pathway of opportunities for future students of our program." - Glen Holmes, Building and Construction Teacher.
The center currently has five programs for the 2022-2023 school year. They include AG Farm, Construction, Culinary, Diesel and Machining. The SMJUHSD has about 40 CTE (Career Technical Education) Pathways and more than 25 industry partners.
SMJUHSD Media Contact: Public Information Officer Kenny Klein 805-709-1454 or kklein@smjuhsd.org