ERHS Poultry Team Named State FFA Champions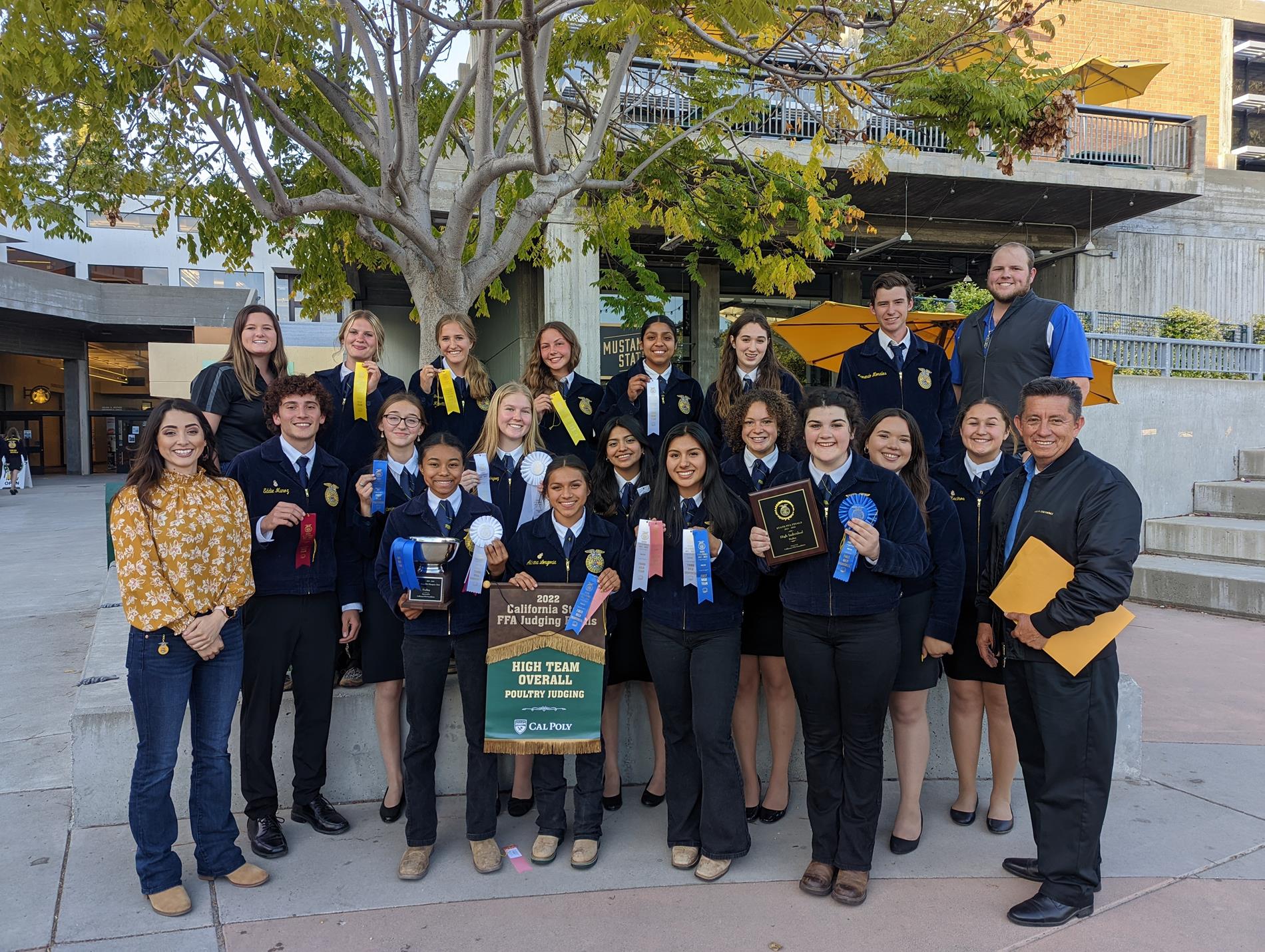 ---
May 11, 2022
The Righetti High School FFA Poultry Team has been named the State FFA Champion Team and will be traveling to Indianapolis, IN. to represent California during the National FFA Convention in October.
The honor was announced last weekend after the State FFA Judging Finals at Cal Poly, where more than 3,000 students from throughout the state competed. The career development events prepare students for career areas in the agriculture industry. All university campuses with Agriculture programs host a judging event, but the state finals (for most of the contest areas) are hosted by Cal Poly, SLO to determine the National competitors. All FFA Career Development Event contests were canceled in 2020, they were virtual in 2021, and finally back to in-person this year.
"Participants in the Poultry Evaluation Career Development Event (CDE) select live meat-type chickens for broiler breeding, evaluate and place live egg-type hens, and rate the finished product by evaluating and grading ready-to-cook carcasses and parts of chickens and turkeys." – National FFA.
"I am tremendously proud of our students for being able to balance their involvement in athletics, other clubs, jobs, and academics on top of countless hours preparing for the competitions,'' said Warrior Agriculture Teacher and FFA Advisor Amy Guerra. "Their hard work paid off and we are excited to be representing California at the National level for the 2nd year in a row! Thank you to the students' family, friends, and teachers for supporting all our FFA students. The knowledge, skills and memories that our students gain from these experiences are priceless."
The Poultry Team included Savannah Taylor - 1st High Individual, Jada Sanchez - 3rd High Individual, Jennifer Perez - 10th high individual, Adrena Longoria 11th high individual, alternate Chloe Hightower, and coach Amy Guerra.
Vegetable Crop Team placed 3rd high team overall. The team included Eddie Munoz, Yasmine Hernandez, Samantha McDonald, Erin Trathen and Coach Miguel Guerra. Soil and Land Evaluation Team placed 6th high team overall. The team included Emma Taylor, Grace Minetti, Belen Sierra, McKenzie Chewning and coaches Kylin Bray and Austin Paddock. The Marketing Team included Kiyana Brown, Isabella Recinos, Anabel Guerrero, Evan Ellis and Coach Amy Guerra. The Ag Welding Team included Wyatt Jones, Alek Santos, Evan Ellis and Coach Hector Jimenez.
RHS has six Agricultural CTE Pathways. They include the Ag Business, Ag Mechanics, Agriscience, Animal Science, Ornamental Horticulture and Viticulture. There are seven Agricultural Pathways throughout the SMJUHSD Righetti FFA has two State Champion Teams this year; State Champion Fruit Tree Pruning Team and the State Champion Poultry Team.
SMJUHSD Media Contact: Public Information Officer Kenny Klein 805-709-1454 or kklein@smjuhsd.org