Dr. Carol Karamitsos Honored with Tree at ERHS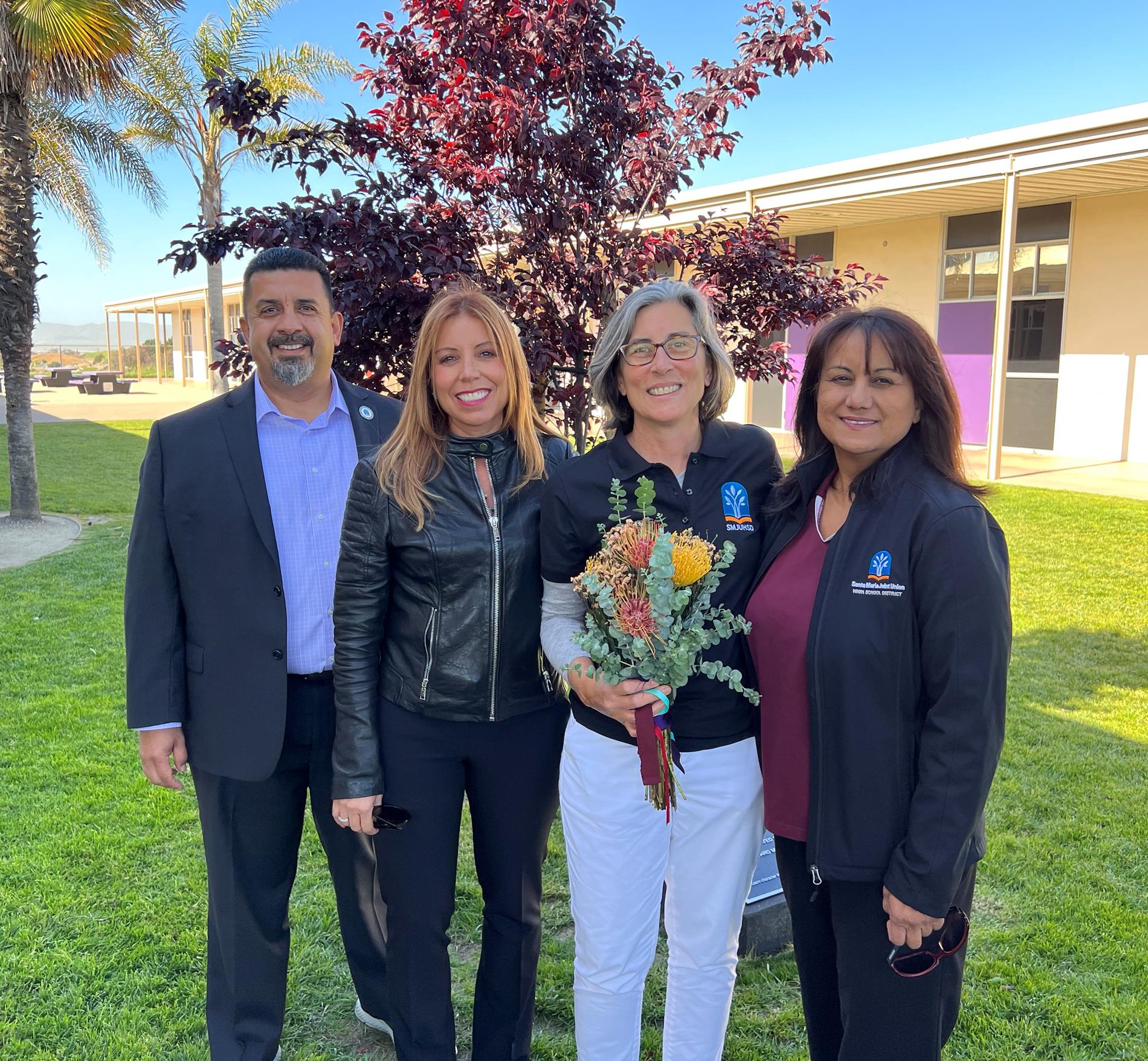 ---
The SMJUHSD held a tree planting ceremony on Wednesday afternoon to honor Dr. Carol Karamitsos' longtime service and dedication to the Board of Education.
The mini purple pony plum (fruitless) tree was planted outside room 235 at Righetti High School. A plaque celebrating Carol, who served on the School Board from 2006 to 2022, was also placed nearby.
"I am so appreciative of having the honor of a tree planting for my service as a school board trustee. The promise statement of the SMJUHSD, "Where Greatness Grows", encapsulates the efforts put forth by the entire organization. I feel privileged to have been a part of helping to materialize that for the students of our community. I am grateful for all the support, assistance, and hard work of the organization and my fellow board members in promoting my individual role. We all serve in our own way and every effort helps to build stronger communities. A tree is a fitting symbol to represent "service". For its entire existence, the tree works for the betterment of its environment. The tree puts down roots. This root system forms its foundational strength and sustenance, below the surface, out of sight from the world above. The tree grows always upward toward the brighter light, seeking to spread its influence, provide food, security, and respite for other creatures. The tree takes in carbon dioxide, which is essentially spent energy from others, to create the essential ingredient of life itself, oxygen. This is what we do when we serve others. I hope to see this tree grow greatly as it lives its life on the campus of my high school days in the care of the SMJUHSD, a committed organization devoted to the students and families that it serves." - Dr. Carol Karamitsos
Dr. Karamitsos graduated in 1981 as valedictorian from Righetti High School where she was active in cross country, track, multiple clubs, and ASB student government. She then went on to attend Occidental College and Washington University School of Medicine in Washington, DC. Dr. Karamitsos and her husband, John, moved to Santa Maria in 1994 to practice obstetrics & gynecology (OB-GYN) at Marian Hancock Medical Group with her late father, Dr. John Karamitsos. They were quickly nicknamed Dr. Carol and Dr. John to avoid confusion. She is currently working as an OB-GYN Hospitalist at Marian Regional Medical Center and as a Clinical Instructor for Marian's OB-GYN Residency Program. She also has been a member of the Marian Community Board and the Marian Foundation Board.
"What a wonderful way to celebrate Carol's service to the SMJUHSD,'' said School Board Member Dr. Jack Garvin. "She was always dedicated to the welfare of all our students. It's a privilege to have served with her.''
"Dr. Karamitsos was a guiding force on our school board. Her vast experience and deep connections in the community provided stability, context, and a very important viewpoint to the board. The district is in a better place because of Carol's dedicated service." – Superintendent Antonio Garcia
SMJUHSD Media Contact: Public Information Officer Kenny Klein 805-709-1454 or kklein@smjuhsd.org