SMHS FFA Wins Fruit Tree Judging Competition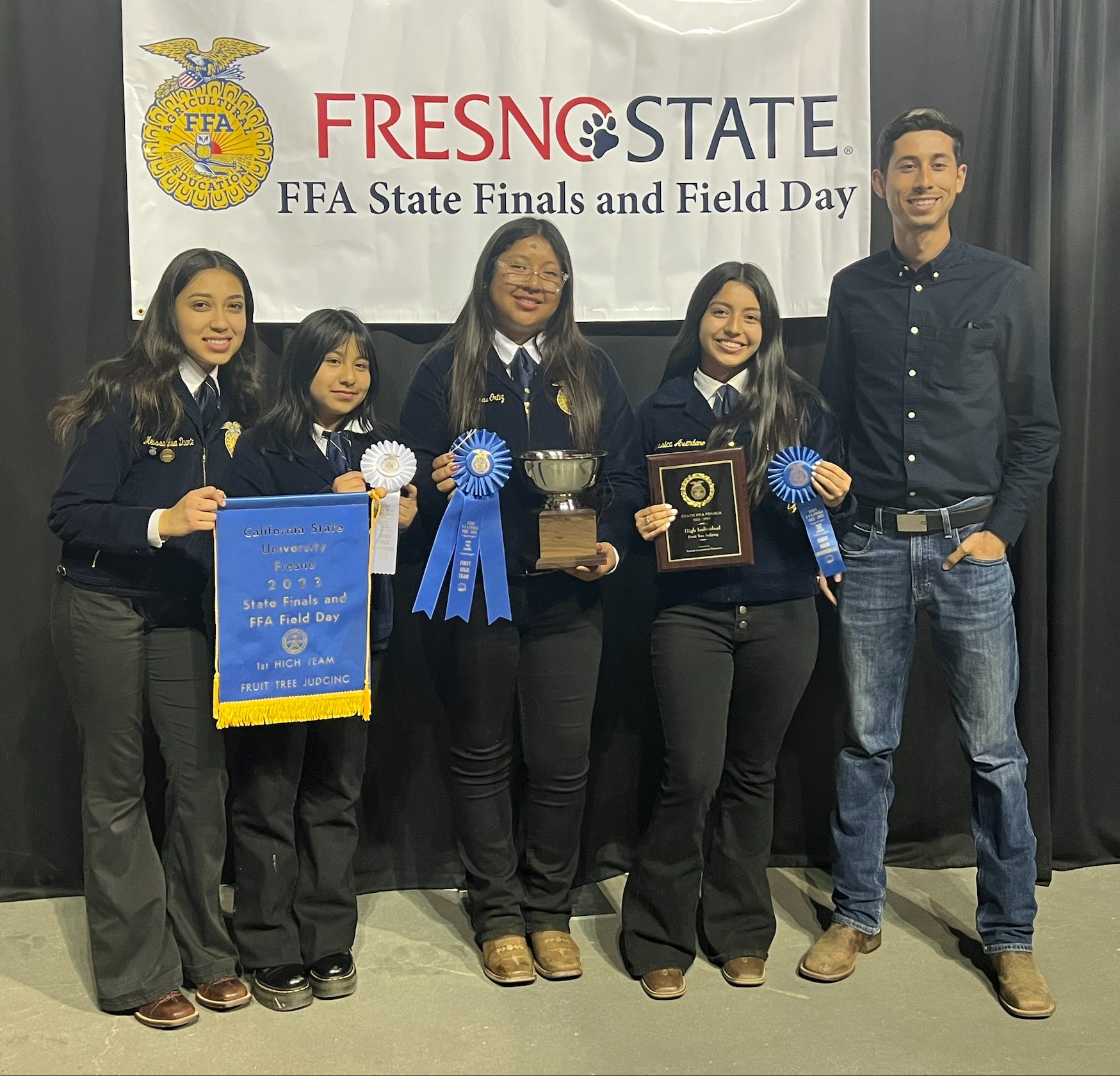 ---
The Santa Maria FFA won the FFA Fruit Tree Judging Team State Championship at the Fresno State Field Day and State Finals competition.
The team earned the honor during the 2023 Fresno State FFA Finals on April 22 where nearly 50 Santa Maria FFA members competed in their respective contests.
The championship team included Jessica Avendano, Evelyn Navarette, Melissa Lua, Diana Nicolas, and Advisor Michael Guerra. A special congratulations to Jessica who placed 1st High Individual overall in the State FFA Contest, and Evelyn who placed 3rd High Individual.
The Fruit Tree Judging contest challenges the contestants to be knowledgeable on peaches, plums, apricots, and almond trees, according to Saint Teacher and Advisor Michael Guerra.
"I am very ecstatic over this win not only for myself but for my teammates as well. I'm happy to say all the time studying, practicing, and pushing each other to work hard paid off, that we accomplished this enormous win." – Jessica Avendano.
"Winning a silver bowl is a dream come true!" – Melissa Lua.
"I'm very proud of this team for doing such a great job working together to win this special achievement!" – Michael Guerra.
In addition, the Santa Maria FFA had a 1st Place Poultry Judging Team, 1st Place Land and Soil Judging Team, 3rd Place Farm Power Team and 4th Place Ag Pest Team.
Santa Maria FFA students will complete their judging season this weekend when they attend the Cal Poly State Finals Contest in San Luis Obispo.
SMJUHSD Media Contact: Public Information Officer Kenny Klein 805-709-1454 or kklein@smjuhsd.org