PVHS FCCLA Attends State Leadership Conference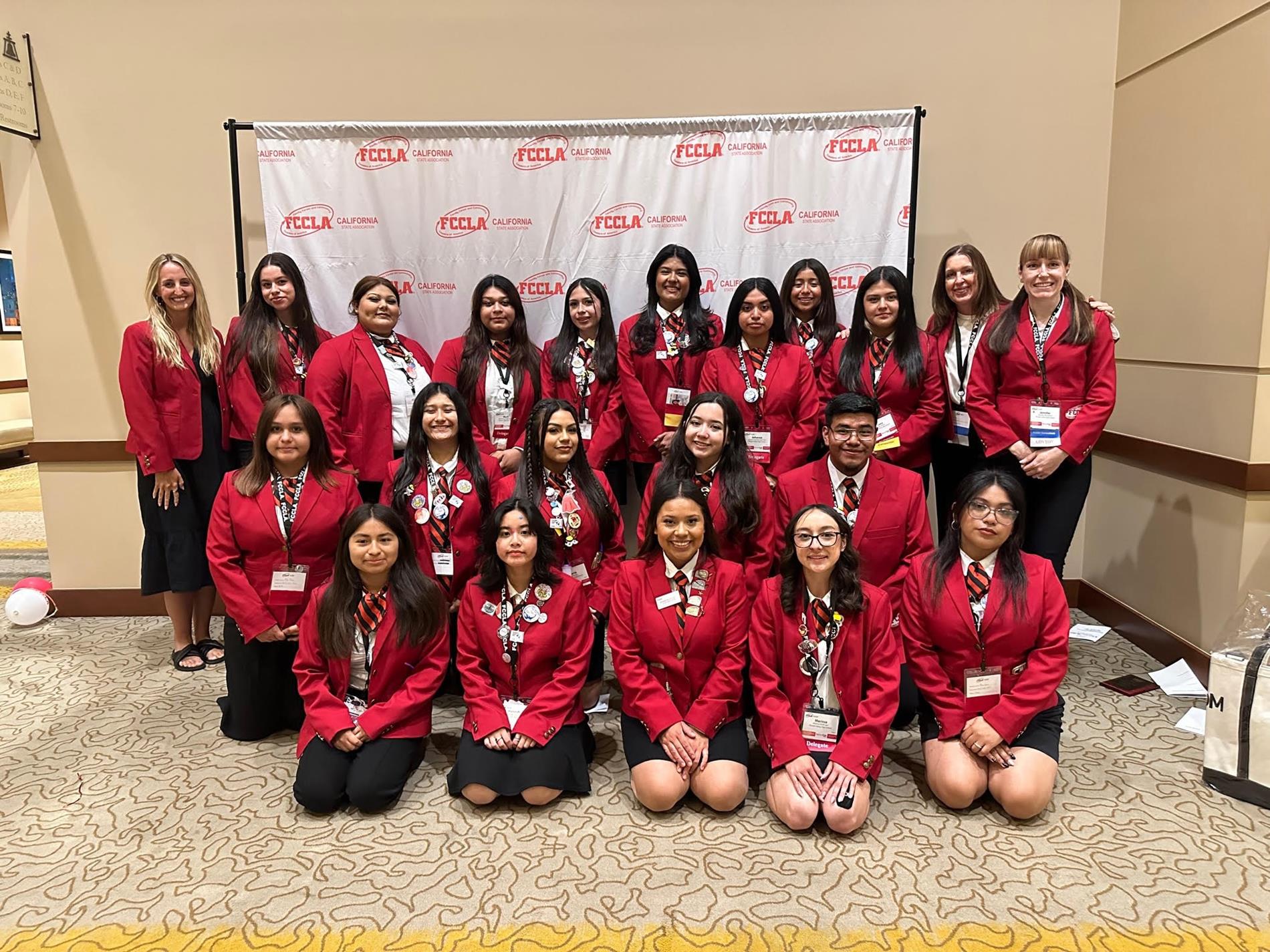 ---
Eighteen Pioneer Valley HS FCCLA (Family, Career, Community Leaders of America) students, including three who won large scholarships, attended the 76th annual State Leadership Conference from April 22-25 at the Marriott Hotel and Riverside Convention Center.
FCCLA members competed in leadership and career development competition events for more than $1.2 million in cash and scholarships. This year, the following colleges provided FCCLA scholarships: Auguste Escoffier School of Culinary Arts, Culinary Institute of America, Johnson and Wales University, and Sullivan University.
Student Lexy Garcia was awarded 2nd place in Fashion Construction and was awarded a total of $64,000 in scholarships. She will move onto the 2023 National Leadership Conference in which she will compete against students from across the country July 2- 6, in Denver. Culinary Arts competitors, Juliana Padilla was awarded $34,000 in scholarships and Naomi Navarro was awarded $56,000.
The theme of the 2023 conference, "IncREDible Leaders," was designed to inspire students to lean into their leadership potential. The meeting included top-notch presenters, interactive student leadership sessions, Career Development Workshops, FCS Industry Tours, FCCLA Fashion Show, College and Career Show, and the State Finals Students Taking Action with Recognition (STAR) Events in over 26 team and individual events. Approximately 70 chapters, including 700 FCCLA chapter members, advisors, administrators, business, and industry representatives attended from across the state.
"State Leadership Conference 2023 was by far the most incredible conference. As I closed my term at SLC as the 22-23 region 7 historian and reporter, I am forever grateful for all I've had the opportunity to experience. From CVS runs to running to workshops or general meetings fully out of breath, I'm forever grateful to have spent it with my FCCLA family. Thank you to my advisors and friends for all they have done to make my last SLC conference the best one yet." - Kimberly Luz, 12th grade.
"Competing made me nervous but once I was done setting up my project, I realized that it wasn't as scary as I thought it was going to be. I am excited and looking forward to nationals and seeing the other projects there!" - Lexy Garcia 11th grade.
"It has been wonderful having the opportunity to bring these students to the FCCLA State Leadership Conference this year. Our competitors have worked hard to prepare their projects and themselves for their events and the FCCLA advisers are beyond proud. Now they have scholarship money to use towards their future educational goals! Way to go Lexy, we can't wait for your next competition in Denver, CO!" - Teacher Jenn Montanez.
FCCLA Panther Advisors/Teachers Melissa Diaz and Kelsey Dudding also accompanied the students.
SMJUHSD Media Contact: Public Information Officer Kenny Klein 805-709-1454 or kklein@smjuhsd.org