Mark Richardson CTE Center Hosts 'Pumpkins on the Farm' Community Event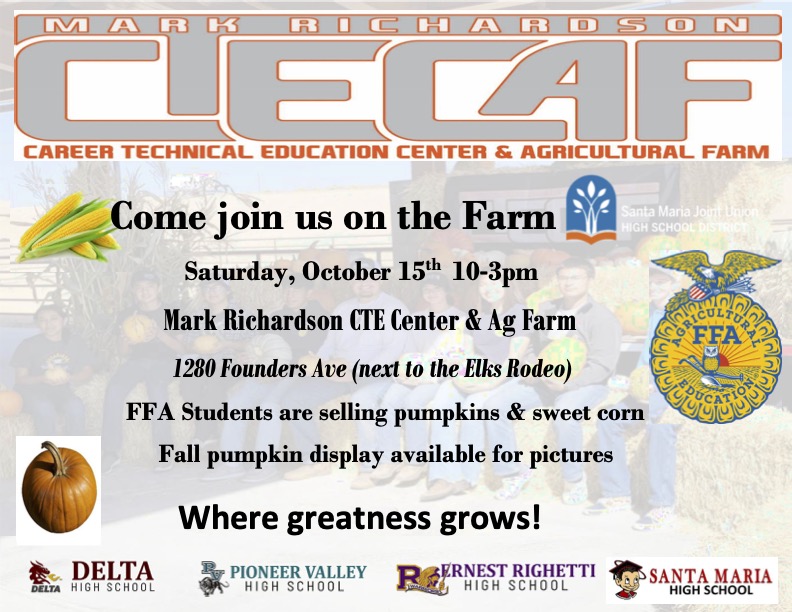 ---
Thousands of pumpkins grown by SMJUHSD FFA students at the Mark Richardson Career Technical Education Center & Ag Farm will be ready for sale from 10 a.m. to 3 p.m. on Oct. 15, just in time for Halloween.
The students, who are from SMHS, PVHS and ERHS, helped plant, tend, and harvest the 18 varieties. The project, which was planted in June, is part of a FFA Supervised Agricultural Experience (SAE) for the young farmers.
Pumpkins have already been sold to some of the district's industry partners including Albertsons (Orcutt and SM stores), True Value, Hayashi, and Peacock Winery, along with sales at the recent SEEAG Farm Day.
"Being a part of the Pumpkin SAE Project at the CTE centers has been a great learning experience. I was able to see and learn by doing from seed to harvest. This project has helped me gain a better understanding of agriculture in our community. I look forward to continuing to be involved at the CTE Center and in Santa Maria FFA." - Ayari Portillo Junior at SMHS
CTE Teacher and Advisor Steve Gambril added, "The students are seeing all aspects of agriculture - from production to sales and service. Hopefully, through these classes they see all the opportunities a career in agriculture can offer.''
The 25 acre-campus, which is north of the Elks Rodeo Grounds and east of Highway 101, accommodates more than 500 students from ERHS, PVHS, SMHS and DHS. It was paid for through C- 2004 Bond Funds and Measure H of 2016.
"We are very thankful for the community's investment in the Mark Richardson Center, so we are able to provide these high-quality experiences for our students to help them prepare for the future," said SMJUHSD Director of CTE Dr. Paul Robinson.
The center currently has five programs for the 2022-2023 school year. They include AG Farm, Construction, Culinary, Diesel and Machining. The center also has more than 25 industry partners.
SMJUHSD Media Contact: Public Information Officer Kenny Klein 805-709-1454 or kklein@smjuhsd.org